Your everyday carry items like wallet, keys, glasses, etc. can cause you a great deal of panic before leaving for work. To avoid the last moment rush, it is best that all your things are organized neatly, in one place. For this, you'd need a good EDC tray or Valet tray. This article will walk you through everything you need to know before buying an EDC tray for your home.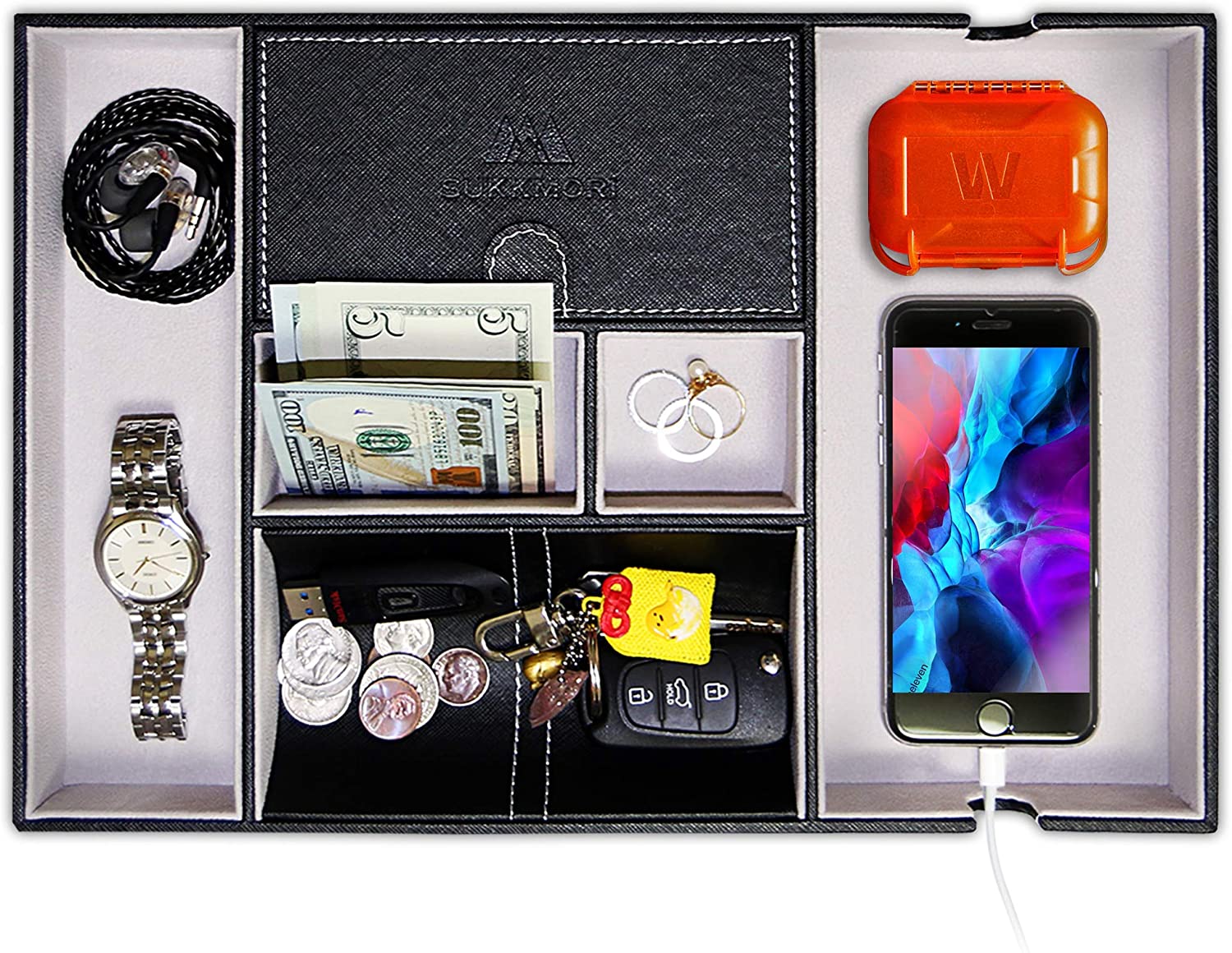 What is an EDC Tray?
An EDC or everyday carry tray, as the name suggests, is a tray that holds your daily carry items like your wallet, car keys, handkerchief, sunglasses, etc. Simply speaking, it is not more than a box where you keep your carriables, but you can serve multiple uses from a single EDC tray.
You can use an EDC tray for several benefits:
As an easy storage tray
Decluttering box
Fancy addition to your side table
Visible reminder to take your necessary daily items
What makes a good EDC Tray?
If you look at it, an EDC tray is just a compartment box; a tray with carved frame(s). Having said that, there are variations even among EDC trays. You need to choose the EDC tray that fits your needs and carry items with ease.
The following factors play a role in making a good EDC tray:
Appropriate size and volume
Quality Material
Style and Shape
Lightweight
Price
We look at them in detail in the upcoming section.
How to choose the best EDC Tray?
So, you have finally decided to sort your life out and get an EDC tray to never scramble for your belongings again. Now, you just need to figure out which tray to buy from the thousands of available options. Worry not, we've listed the things you must keep in mind before getting yourself an EDC tray. This handy checklist will help you choose the best EDC tray.
Size
What use is an EDC tray if it doesn't fit all your daily carry items? Look for a tray that can fit your phone, watch, ID card, wallet, or whatever you need to keep with yourself while you head out.
Material
If you are getting an everyday carry tray, it's only viable to ensure its durability. You can get a leather vault or one made out of polymer, aluminum, or wood. Go with the one that suits your requirements.
Appearance or Look
Be certain that your EDC tray will be kept at a place that can be comfortably spotted even during busy mornings. So, it is only wise to choose a design that would go well with your home décor. For a more aesthetically pleasing look, you can go for wooden trays.
Lightweight and portable
You may want to change the position or placement of your tray; one day it is on your TV shelf, the next on your side table. Make sure you get an EDC tray that is easy to carry when needed and thereby lightweight.
Budget
Lastly, you must keep in mind your budget while getting your EDC trays. Depending on the size, brand, number of compartments, etc. EDC trays are priced differently. First fix a rough price range for yourself, depending on average prices, and then go through the above criteria to select the best EDC tray.
Amazon Auto Links: No products found.