The Kershaw Blur Black is one of my favorites. It's perfect for everyday use – camping, outdoor adventures, or even home or work related tasks. At just 4.2 ounces, it's a true lightweight and one of my most carried EDC knives.

Kershaw Blur Black 1670BLK
Famous knife designer Ken Onion has truly put his signature on this one, making it look very tactical: The blade is crafted from Sandvik 14C28N stainless steel with a strong Tungsten DLC (Diamond Life Carbon) coating. This ensures the Blur Black will remain sharp for years of intense use (I've had mine for 3+ years and haven't had to sharpen it once). The practical pocket clip can be mounted in 2 ways: tip-up and tip-down, for most convenient access.
One of my favorite features on the Blur Black is the SpeedSafe, which allows of one-handed operation. Simply push a thumbstud or press a flipper and the blade swings open and locks into place. This works perfectly for left-handers and right-handers alike.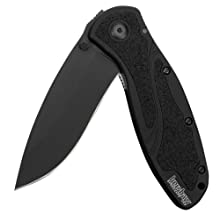 Max Performance Steel
Sandvik 14C28N steel is a high-performance steel with a larger amount of nitrogen in the formula. This allows superior corrosion resistance and increased hardness. One of the best performing knife steels around, it maintains the productivity benefit of being fine-blankable. 14C28N steel is the perfect choice for knife applications, in which edge sharpness, edge stability and corrosion resistance are a top priority.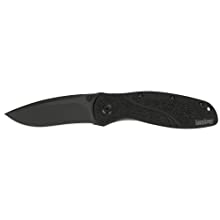 Tactical Blade Coating
Cerakote coating is a long-lasting ceramic based finish coating that improves corrosion and wear resistance. This increases durability & longevity of your knife.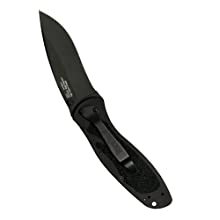 Fast to Action
Kershaw's revolutionary SpeedSafe Assisted Opening system enables smooth, secure, fast one-handed blade deployment by using a torsion bar to move the blade out of the handle. Put some pressure to the flipper or thumb stud with a light push or pull back to overcome resistance of the torsion bar, and the blade flips out smoothly and locks into place for easy handling without premature closure.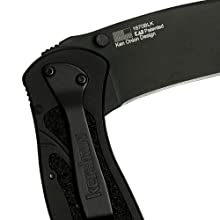 Locked & Secure
Inset Liner Lock is a slim and light blade locking system that utilizes a sturdy steel plate on the inside of the knife's handle scales. Riveted into place in a custom-machined cutout on the handle's interior, the plate provides the same strength and safety of a locking liner without the weight. It reliably prevents blade closure while ensuring conveniently quick and safe blade deployment at the same time.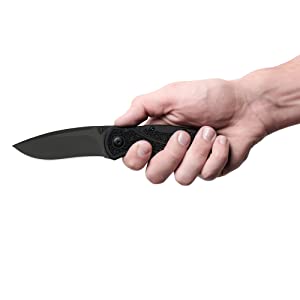 Single-Handed Operation
SpeedSafe has two options for one-handed blade deployment. To activate the smooth, instant open, you can push a thumbstud or press a flipper. The flipper on SpeedSafe assisted knives works easily for both left- and right-handed users. Once the blade swings open and locks into place, the flipper either disappears for a clean look or remains visible for added finger protection.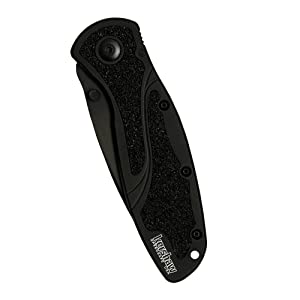 Handle like a pro
The handle is made from anodized Aluminum, which ensures hardness and additional protection. It is very durable, stain and scratch resistant. Anodization changes the aluminum's surface, so the coating and color can be applied. It gives the knife bright, eye-catching, unique colors and provides a nice, sturdy, solid feel to the knife without adding weight. The Trac-Tec Inserts have a rough surface and provide additional friction for a non-slip grip on your knife. With great gripping capabilities, Trac-Tec inserts feel almost spongy when pressed with a fingertip. The inserts feel comfortable and secure in your hand, while having a soft enough texture that will not scratch or irritate your hands.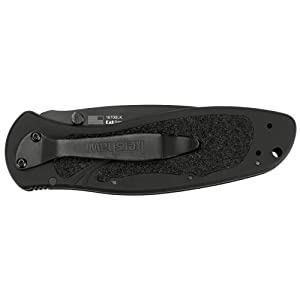 Clip like you want
The pocket clip is specifically adapted to the knife's weight, intended end use, size, style and hardware. Some knives have various carry options, others are more streamlined. The reversible pocket clip on the Kershaw Blur Black allows you to choose to carry it tip-up or tip-down, and also to choose on which side you want to carry it.
Verdict
The Kershaw Blur Black 1670BLK is one of the best and most widely used pocket knives out there. Due to its high build quality and versatility, combined with advanced safety features, it is a must-buy for every serious Everday Carry. As mentioned in the beginning, I've used mine for years without any sharpening or replacement and this speaks for its superior quality. Also, it just looks slick and people have asked me about it, when I took it out to use. The facts that it's made in the US is a bonus, too, as many pocket knives are made in places, where quality is not a top priority.
Key Facts:
Model Number: 1670BLK
Steel: Sandvik 14C28N stainless-steel with Tungsten DLC coating
Handle: 6061-T6 anodized aluminum with Trac-Tec inserts
Liner: 410 stainless steel
Blade: 3 3/8 in. (8.6 cm)
Closed: 4 1/2 in. (11.5 cm)
Weight: 4.2 oz (119 g)
Lock: Locking Liner
Includes a Reversible Pocket Clip
Amazon Auto Links: No products found.