Over the years, I've tried my fair share of wallets, and most of them were great for one purpose, but lacking some features that I loved on another. But none of the wallets were the one to rule them all. That is, until I discovered the Ridge Wallet. I was blown away the moment I received it in the mail and I haven't gone back to one of my other wallets since.

Why? Well, in short: It looks just awesome. The material quality is just fantastic. It's slim and lightweight. And it features RFID blocking (which is a must for me!).
What is The Ridge wallet?
The Ridge is a minimalist wallet with RFID-blocking. It uses an elastic to expand and can hold up to 12 IDs and credit cards. Your average leather bi-fold usually gets jam packed with old receipts and expired (loyalty) cards, bulging like an over packed suitcase. The Ridge is slick and "minimalist without being limiting", as they say.
It is actually not just one wallet, but multiple, as you can get it in a variety of different materials (more on that later). It's a slim, lightweight metal wallet that was launched on Kickstarter in 2013, and has sold over a half-million copies worldwide. This alone shows just how cool & popular it is!
Material
The Ridge wallet comes in three metal base materials with various color finishes:
Aluminum (Navy, Black, Gunmetal, Matte Olive, Tiki, Tropical, Raw, Rose Gold, Matte White
Titanium (Burnt, Matte Cobalt, Gunmetal, Matte Black)
Carbon Fibre (Carbon Fibre, Forged Carbon)
Premium (18 Karat Gold Plated, Damascus)
To each their own, but in my opinion, all materials & colors look super cool, and the premium versions are just stunningly slick. I own 3 different Ridge wallets and just use whichever suits the rest of my day's EDC.
Features
When it comes to features, less is more, if you have what you need. The Ridge has all the features you need, but no unnecessary stuff, and no bells & whistles.
RFID Blocking – Keeping You Safe
The killer feature on The Ridge wallet is the RFID blocking technology. RFID stands for Radio Frequency Identification and is the technology that's making touchless payments possible. The downside of this tech is that hoodlums can hack their way into it (wireless theft), when it's not secured properly. RFID blocking keeps your credit cards, IDs and all other cards that use RFID safe and protected.
Cash Strap or Money Clip – Your Choice
The Ridge comes with either a money clip or a cash strap, to hold your bills. The cash strap is a thin and versatile elastic, which is perfect for carrying: cash, ID's, or RFID-enabled cards. The wallets with cash strap also feature a cash strap plate to hold down your cash safely. The money clip is made from spring steel and is ideal for carrying: cash, RFID-enabled cards, or business cards. Need some more decision help on which one to choose? The Cash Strap holds 1-15 bills, while the Money Clip can hold 1-12 bills.
If you ever change your mind and want to switch your wallet from a cash strap to money clip wallet or vice-versa, a T-5 torx driver comes with the wallet. This also helps you replace your wallet's elastic, if it ever started to get worn out, or breaks (see below).
But what about pocket change, you may ask? Notice something? Exactly, that goes into your POCKET!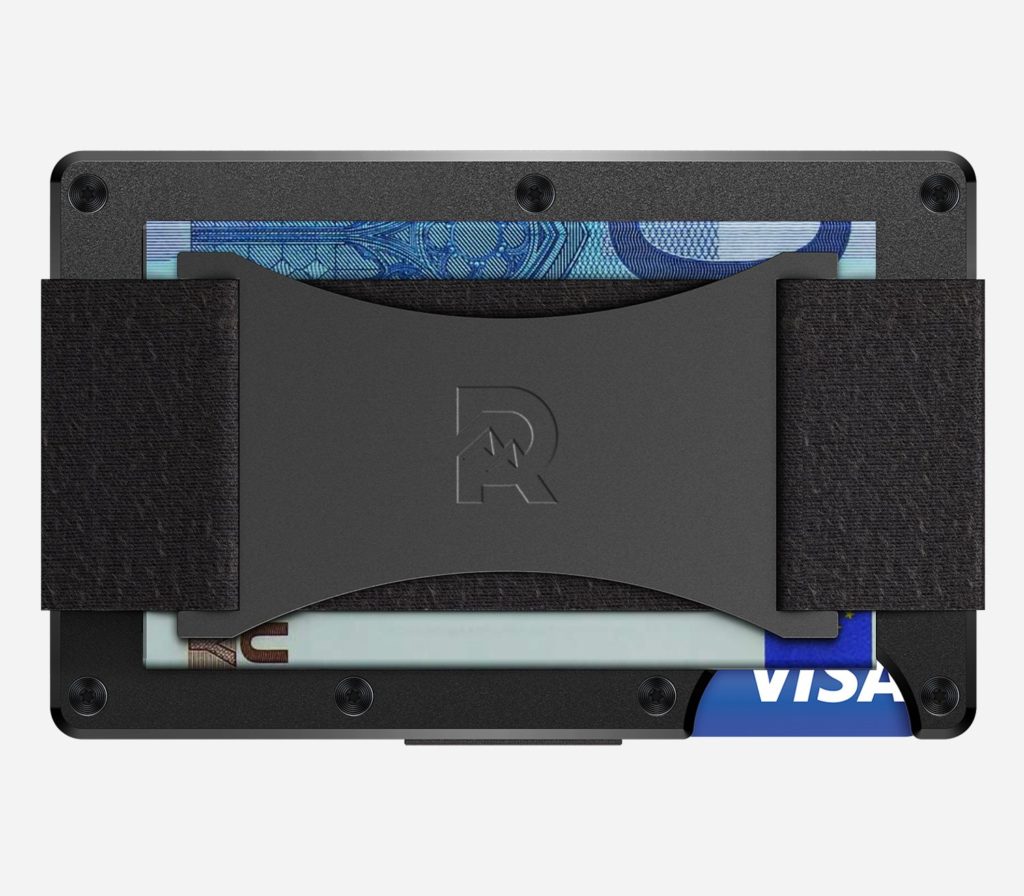 Replaceable Elastic
This is how the magic happens, and how you fit up to 12 cards into The Ridge wallet. The elastic strap is quite durable and while using the Ridge wallet and doing research for this article, I have found exactly ZERO cases in which the elastic has failed on people. But in case it does, or it falls victim to an accident, The Ridge will send you a replacement.
Lifetime Warranty
The Ridge are so confident in their product that they offer a lifetime warranty, which is unheard of for a wallet.
Size & Weight
Size: 3.39 x 2.13 x 0.24 inches (86 x 54 x 6 mm) -> Just like a credit card!
Weight: Aluminum = 2 oz (56.7 g) Titanium = 2.5 oz (70.9 g) Carbon Fiber = 1.6 oz (45.4 g) Damascus Steel = 3.5 oz (99.2 g)
Verdict
As initially mentioned, The Ridge is my absolute favorite wallet. Wallets, to be exact, and I'm sure I'll add some more to the collection. It's just the perfect size & weight for me, carries everything I need, is easy to handle, and looks just awesome. I bought my first Ridge in 2015 and it has not failed me once, which speaks for the build quality.
Amazon Auto Links: No products found.